Are you thinking of living and working in South Africa permanently? The critical skills route offers highly skilled applicants the option of becoming a permanent resident in South Africa. It is crucial to know that you are eligible to apply for permanent residence before submitting your application.
The critical skills allow applicants who qualify to apply for permanent residency based on their occupation, qualifications and work experience.
How to qualify for permanent residency through critical skills:
Applicants must prove 5 years work experience
Proof that occupation is listed on the Critical Skills Occupation list
Registered with a professional body (specific to your occupation)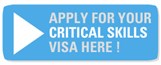 Why apply for permanent residency:
Live and work freely in South Africa
No need to renew your permanent residency permit
Direct route to South African citizenship
Obtain a non South African citizen identity document
Try our free visa assessment and our friendly consultants will contact you within 24 hours!
Our free visa assessment includes the following:
Permanent residence eligibility assessment
Permanent residency processing times