Processing Time in South Africa: 30-40 days
Processing Time if lodged abroad: 30 days
Government Fee in South Africa: R1520
New Submission Centre Fee ( in SA ): R1350
Government Fee abroad: Dependent on Currency

Application Form when submitting abroad: Click here
Application Form when submitting in SA: Done Online


Applying for a Critical Skills Permit for South Africa

The South African government has identified areas in the South African work force that may be lacking qualified and experienced staff to fulfill those roles. Verify if your occupation is listed on the critical skills list - Critical Skills Permit South Africa

The government also realized that skills need to help grow the country and ultimately support the economic growth of the rainbow nation may have to be attracted from outside the country's borders, and with this in mind the Critical Skills Permit was implemented. This visa aims to attract international talent and experience to specific areas requiring development on South African shores. As one of the fastest growing countries on the African continent with the most progressive laws more and more qualified migrants are establishing themselves here and are at the forefront of the country's development boom.

What are the specifics of the Critical Skills Permit?

• This visa falls in the temporary residency visa stream and allows foreign nationals to legally live and work in South Africa for a period of up to five years.
• Visa's are granted based on the applicant being able to prove that they hold the experience and qualifications needed in that specific field of occupation as listed on the Critical Skills List of more than 200 occupations for which this skills shortage exists.
• The applicant will not need a job offer on application and may apply for this visa without a job offer.
• Under this visa the holder must secure employment in his specific field, for which this visa was granted, within 12 months.
• The applicant need not obtain a letter of recommendation from the Department of Labour
• This visa also offers the bearer the option to apply for permanent residency in the country subject to certain conditions. But can be applied for straight away if the applicant can prove more than 5 years' experience in their field of expertise.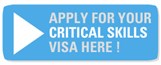 Qualifying for this visa:

• The applicant is able to prove sufficient knowledge and qualifications to fill a position listed on the critical skills list.
• The applicant's occupation must be registered with a professional body in South Africa and must be recognized by SAQA. You will have to submit proof of this registration along with your visa application.
• Any foreign qualifications must be assessed by SAQA and translated into one of the Republic's eleven official languages.

The importance of registering with a professional body, council or board in South Africa

This registration is required to confirm that the applicant holds the necessary skills and experience as claimed on their application. It also subjects them to the regulations under which his or her profession is governed in South Africa.
Request a "Free Assesment" from one of experienced immigration consultants. Our immigration consultants will verify if you're eligible to apply for a Critical Skills Permit. Not only will they discuss your eligibility but which professional body you need to register with.

The process involved:

• Assessing the applicants qualifications and credentials
• Establishing that the applicant truly meets the required standards of practice within their occupation
• To maintain discipline within your trade or profession
• You may be required to prove 3 – 5 years experience in your industry

Occupational Categories included in the Critical Skills List.

• Agriculture, Agricultural Operations and related sciences
• Architecture and the Built Environment
• Business, Economics and Management Studies
• Information Communication & Technology
• Engineering
• Health Professions and Related Clinical Sciences
• Life and Earth Sciences
• Professionals and Associate Professionals
• Trades
• Business Process Outsourcing (BPO)
• Academics and Researchers
• Post-Graduates
Contact our South African Immigration Consultants today to find out if your occupation is listed on the critical skills list for South Africa!
Critical Skills Visa Visas