South African Work Visas

Today, more than ever before, companies - big and small - are expanding in order to ensure their survival and expansion often means investigating off shore options. Benefiting from a new customer base, a stronger / weaker exchange rate, beneficial import and export policies or having access to a suitable workforce might all drive a business to look beyond it's borders. This means that business might need to transfer staff from their head quarters to their new offshore address and if that address is in South Africa, New World Immigration is able to assist both employers and employees with this sometimes complicated and time consuming process of applying for a work visa.
In order to legally work in South Africa anyone who is offered a position in a South African based country must be in possession of a South African work permit. This allows the bearer to legally conduct business in South Africa or to be legally employed by a South African entity or an international organization with a South African reach.
But it is not as simple as merely turning up at the local Department of Home Affairs with your passport in hand. The South African Department of Home Affairs offers a selection of specifically tailored visas and selecting the appropriate option is of cardinal importance. This is where the value of the immigration consultant is truly tested and New World Immigration is at the forefront of the latest developments in terms of the South Africa's Immigration policies.
Browse our variety of South African Visas.

Types of Work Permits in South Africa
There are a number of South African Work Permits to consider. These include:

The South African Critical Skills Visa
Issued to foreign nationals, this visa is specifically designed to attract skills, knowledge and experience to the South African economy. 
But before applying for a South African work visa is considered it would be good practice to establish that your field of expertise is listed on the South African critical skills list. This list details more than 200 professions and occupations that have been identified by South African lawmakers as necessary for the country's growth and prosperity.
Essentially this means that, should your occupation be listed on this list, you would be able to apply for a South African Work Permit without an offer of employment as you would be expected to find employment in your field relatively easily.
1. Verify if your occupation is featured on the South African Critical Skills List.

2. Obtain more information about the Critical Skills Visa / Permit.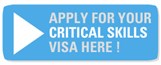 The South African General Work Visa
Applying for a South African work permit would require the applicant and /or the applicant's employer to provide sufficient proof that the position the applicant would be employed for could not be filled by a South African or a South African permanent resident. It might require the employer to demonstrate that the applicant has a special qualification or specific knowledge which is unique to that person or post to be filled.

However, a general work visa would be issued to a person who currently holds a general qualification but whose occupation is not listed on the critical skills list. This visa is only issued in cases where the applicants who can otherwise prove that no other South African citizen or permanent resident can fulfill the vacancy within the company.
1. Read more about the General Work Visa.



The South African Intra-Company transfer work visa.
An applicant would be eligible for this visa if he or she is a foreign national transferred to a company with a base in South African where he/she would continue in the same company's employ.
1. Read more about the Intra-Company transfer work visa.


South African Work Permits Requirements
South African work permit requirements will vary, depending on which work visa you're applying for. The Department of Home Affairs and South African Embassies globally are quite stringent about requirements and incomplete applications will definitely result in your visa being rejected or not accepted by an immigration official.

Validity of a South African work permit
South African work permit will be issued for a period of four year or for the duration of the applicant's project or contract. Applicants may apply for an extension of this visa but in this case the applicant and the employer would be required to furnish substantial evidence that an extension of their South African work permit is warranted.

Application for a South African work permit
Once again, as professionals in the field with many years' experience, we have come to know that a application for a South African work permit could be a time consuming and frustrating process and we would strongly advice that employers and employees 'rope in' experts such as New World Immigration. Registered immigration practitioners are able to access and track an application - something a private person cannot do - and more importantly, you will be assured that the process for your application for a South African work permit is followed in such as way to ensure the best possible outcome of your application.

An incomplete application or missing supporting documents might result in your application being rejected or delayed. According to legislation, work visa applications must be filed at a South African embassy in the applicant's country of residence. 

How much does a South African work visa cost?
According to the South African Department of Home Affairs applicants can expect to pay about R1520,00 per visa application. Please note that all South African visas are to be submitted at the VFS facilitation centres in SA closest to you. VFS currently manages the submission of visa applications and therefore charge an extra fee for the handling of your application.
VFS Facilitation South African work permit cost: R 1350.00 per applicant to digitally capture your fingerprints and capture a digital photograph of you. South African work permit costs may differ for each South African embassy.
It is important to note that there is an additional fee charged if you are making use of the professional services of an immigration practitioner to prepare your application.
Read our popular blog posts which could be useful to you.
1. The highest paying jobs in South Africa - 5 Top paying jobs in SA.
2. Check the status of your visa/permit - This blog provides numerous ways for applicants to follow up about their pending application submitted before the new immigration regulations. Please note, these methods are not applicable to any applicant who submitted their application through VFS.
3. South African Medical and Radiology Forms - Why does Home Affairs require medical and radiology forms?
4. New South African Immigration Regulations 2014 - Jackie Cameron from Biz News uses our detailed inforgraphic which simplifies the Immigration Regulations for South Africa.
South African Work Visas Permits Visas