If you're a highly qualified mining engineer then you stand a good chance of being eligible for a critical skills visa which allows you to immigrate to South Africa without the requirement of having a job offer.
The critical skills visa entitles applicants to:
- Seek employment in South Africa for a period of 12 months (No job offer needed)
- Live and work in South Africa for a period of 5 years
- Option to add a dependent spouse and children
- A route to permanent residency
- No ties to a specific employer
- No Department of Labour recommendation letter needed
Mining engineers must prove at least 3 years experience in the following duties:
- Performing laboratory studies of steps in manufacture of new products and testing proposed process in small scale operation such as a pilot plant.
- Determining the location and planning the extraction of coal, metallic ores, non-metallic minerals, and building materials, such as stone and gravel.
- Determining most suitable methods of efficient mining and extraction, types of machinery to be used, planning layout and directing construction of shafts and tunnels.
- Determining drilling site and devising methods of controlling the flow of water, oil or gas from wells.
- Planning and directing storage, initial treatment and transportation of water, oil or gas.
- Establishing safety standards and procedures and first-aid facilities, especially underground.
- Conducting research, developing methods of extracting metals from their ores and advising on their application.
- Investigating properties of metals and alloys, developing new alloys and advising on and supervising technical aspects of metal and alloy manufacture and processing.
- Maintaining technical liaison and consultancy with other relevant specialists such as geologists and geophysicists.
Critical skills qualifying criteria:
- Excellent health status
- No criminal records
- Register with a professional body in South Africa as a mining engineer
- Assess all foreign qualifications in South Africa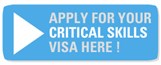 Applying for permanent residency:
Mining engineers who are able to prove 5 years work experience may apply for permanent residency in South Africa immediately.
Submit your enquiry now to find out if you're eligible to apply for a critical skills visa by completing the assessment form below. Our friendly consultants will contact you within 24 hours.