New World Immigration is currently looking for highly qualified foreign mechanical engineers who would love to live and work in South Africa for 5 years with the option to apply for permanent residence. Our friendly consultants are on standby to assist you with your enquiry and to discuss your eligibility. Mechanical engineers must work in South Africa under this occupational category.
Applicants who meet the qualifying criteria must apply for a critical skills visa which entitles them to seek employment in South Africa for a period of 12 months and no job offer is needed to apply for this visa. The critical skills visa leads to permanent residency in South Africa, if the applicant can prove 5 years work experience as a mechanical engineer.
Qualifying criteria for a critical skills visa:
- Register occupation with a professional body in South Africa (Engineering Council of South   Africa)
- Assess all foreign qualifications in South Africa
- Occupation present on the Critical Skills Occupation List (View List)
- Clear criminal record
- Excellent health status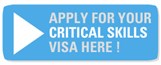 Mechanical engineers must prove at least 3 – 5 years work experience in the following areas:
- Advising on and designing machinery and tools for manufacturing, mining, construction, agricultural, and other industrial purposes.
- Advising on and designing steam, internal combustion and other non-electric motors and engines used for propulsion of railway locomotives, road vehicles or aircraft, or for driving industrial or other machinery.
- Advising on and designing: hulls, superstructures and propulsion systems of ships; mechanical plant and equipment for the release, control and utilisation of energy; heating, ventilation and refrigeration systems, steering gear, pumps, and other mechanical equipment.
- Advising on and designing airframes, undercarriages and other equipment for aircraft as well as suspension systems, brakes, vehicle bodies and other components of road vehicles.
- Advising on and designing non-electrical parts of apparatus or products such as word processors, computers, precision instruments, cameras and projectors.
- Establishing control standards and procedures to ensure efficient functioning and safety of machines, machinery, tools, motors, engines, industrial plant, equipment, or systems.
- Ensuring that equipment, operation and maintenance comply with design specifications and safety standards.
Contact New World Immigration to find out if you qualify for a critical skills visa. Our friendly consultants will contact you within 24 hours. Submit your enquiry now by completing out free critical skills assessment form below.