Protecting our borders is first and foremost, says South Africa Home Affairs Minister Hlengiwe Mkhize, even if that means appearing less welcoming.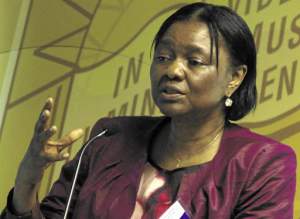 Speaking in a media interview the minister elaborated saying that the South African government would have to act more ruthlessly when acting against foreigners who contravene immigration policies. The minister added that one of the department's biggest challenges is managing local hostility towards immigrants.



"The policy has to be tightened and set limits as to what people can do. Especially during this phase of high rates of unemployment, high levels of poverty [and] inequities that people are complaining about.
"We cannot be too liberal as though we are not dealing with a real situation that affects people [South Africans] on a daily basis."
Mkhize has previously publically stated that stricter enforcement of immigration rules would be one of her focus areas during her tenure. Cabinet approved the white paper on international migration in March, which outlines a policy for amending immigration and refugee laws.
"People get involved in unlawful marriages, where there are women who will agree to assist a person by marrying them," she said. "It's almost like it's systematic, something which has got roots now in each and every corner. When you ask, 'But how did it happen? Where was the priest?' They have priests who collude; they have police who collude and some of our officials who collude, and citizens who also collude."

The minister is of the opinion that certain industries were more likely to make themselves guilty of not verifying employees' paperwork, thereby "harbouring" undocumented foreigners.
"In the hospitality industry there is a lot that is going on," she said. "Half the time the people who work at dinner time to serve people [in restaurants] some of them they don't have the right papers. The people in the private security sector some of them don't have the right papers."
"If we do not manage the process of free movement within the continent, we could end up with a crisis," she said. "Remember our triple challenge [unemployment, poverty and inequality] is real and we know from other parts of the world that that's what triggers a revolution.



"People will revolt against the government of the day if they feel they're in competition with everybody," said Mkhize in response to what her thoughts are on the African Union's Agenda 2063, which called for visa-free travel on the continent for all Africans by 2018.