The Department of Home Affairs is now inviting telecommunications engineers to apply for a critical skills visa, which recently replaced the Quota and Exceptional Skills Permit. The critical skills visa entitles highly qualified telecommunications engineers to temporarily live and work in South Africa for a period of 5 years.
Telecommunication engineers will be required to meet the following criteria:
- Confirmation that applicant is registered with a professional accredited body in South Africa
- Foreign qualification assessed by SAQA
- Proof of employment within 12 months after receiving critical skills visa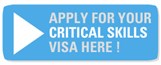 Who can submit an application for a critical skills visa in South Africa?
- Any applicant who holds a valid temporary long stay visa
e.g General Work Visa holders, Quota visa holders, Exceptional Skills holders etc
Who may not submit an application for a critical skills visa in South Africa?
- Any applicant who holds a visitor's visa or medical visa
Telecommunications engineers must provide proof of experience in the following tasks to be eligible to apply for permanent residency:
- Advising on and designing telecommunications devices or components, systems, equipment and distribution centres.
- Specifying production or installation methods, materials, quality and safety standards and directing production or installation work of telecommunications products and systems.
- Organizing and directing maintenance and repair of existing telecommunication systems, motors and equipment.
- Researching and advising on telecommunications equipment.
- Planning and designing communications networks based on wired, fibre optical and wireless communication media.
- Designing and developing signal processing algorithms and implementing these through appropriate choice of hardware and software.
- Designing telecommunications networks and radio and television distribution systems, including both cable and over the air.
Contact New World Immigration today to find out if you are eligible to apply for a critical skills visa or alternatively complete our free online assessment form below and our friendly consultants will contact you with 24 hours.